From great architecture to incredible sightseeing city walks, with breathtaking lookouts, Lisbon has options to satisfy all tastes of travelers and be a second home for those looking for great weather, warm and friendly people, amazing gastronomy, and vibrant nightlife.
A cosmopolitan and diverse city atmosphere that embraces their visitors and welcomes those who choose to experience and live the Portuguese culture. Here we are going to take a close look at areas that have much to offer, the real estate prices per square meter of places that have the potential to be profitable investments in the long term.
Visitors seeking leisure activities such as golf can drive fewer than five kilometres to the Centro Nacional de Formação de Golf do Jamor. Alternatively, you can travel fifteen km north to Oeiras Golf, twenty kilometres west to the Estoril Palácio golf course, or thirty kilometres further west to the world-renowned Quinta de Marinha golf course, home to Oitavos Dunes. Visitors can also charter a boat for a day on the Tagus River or the Atlantic Ocean. 
Not only the real estate market is booming in Portugal but the search for a better lifestyle is increasing the demand for properties with a better space to accommodate the new era of the working force and new property buyers from other countries can take advantage of a Lisbon-specific non-habitual resident tax reduction for the first 10 years of owning a property.
---
Campo de Ourique
Investing in Campo de Ourique property is always a good choice. Campo de Ourique is a well-kept secret for some of Lisbon's most trendy food and speciality shops. The streets are designed on a grid while the local folk flock to the popular central park, the outer streets of the grid are a culmination of the historical and fresh face of the city.
Properties for sale in Campo de Ourique are nestled nearby Lisbon's charming neighbourhoods Estrela and Alcantara, also great areas for things to do and see.
| | | |
| --- | --- | --- |
| Lisbon 2020 Q2 | Average sale $ m2 | Average rent $ m2 |
| Campo de Ourique | €5,120.00 | €16.00 |
---
Belém
Belém is considered the southwestern-most neighbourhood of Lisbon proper, fifteen kilometres from Lisbon International Airport, Michelin-starred restaurants that include Feitoria, a contemporary-classic restaurant that prides itself on its culinary presentation. With sailing clubs nearby it's the perfect place for sailing enthusiasts.
Belém property prices are at comparable levels with the most expensive areas in Lisbon like Misericórdia.
| | | |
| --- | --- | --- |
| Lisbon 2020 Q2 | Average sale $ m2 | Average rent $ m2 |
| Belem | €4,532.00 | €15.00 |
---
Marvila
Located right by the river Tejo in eastern Lisbon, Marvila is becoming popular among international property buyers, and now is a good time to invest in a Marvila property that has recently gone through a major transformation. 
Marvila is one of the most trendy areas of Lisbon, with cultural events, cosy restaurants, and beautiful architecture. The old industrial buildings have gained new life as bars, restaurants, cultural spaces, and breweries.
| | | |
| --- | --- | --- |
| Lisbon 2020 Q2 | Average sale $ m2 | Average rent $ m2 |
| Marvila | €2,965.00 | €12.00 |
---
Misericórdia
Misericórdia property allows for a set of advantages that specifically cater to the international crowd, the members of which crave luxury, convenience, and a sprinkling of local life.
| | | |
| --- | --- | --- |
| Lisbon 2020 Q2 | Average sale $ m2 | Average rent $ m2 |
| Misericórdia | €5,465.00 | €17.00 |
---
Santa Maria Maior
Among Lisbon's most sought-after neighbourhoods, one of the most known is Santa Maria Maior. This central district comprises a handful of attractive areas such as Alfama, Baixa, Sé, Castelo/Mouraria, and Rossio
Beautiful streets of Baixa where boutique shops and Michelin-starred restaurants abound, one of which is the city's oldest restaurant, Tavares Rico, dating to 1784. The second restaurant with Michelin stars is Alma.
| | | |
| --- | --- | --- |
| Lisbon 2020 Q2 | Average sale $ m2 | Average rent $ m2 |
| Santa Maria Maior | €5,364.00 | €18.00 |
---
Estrela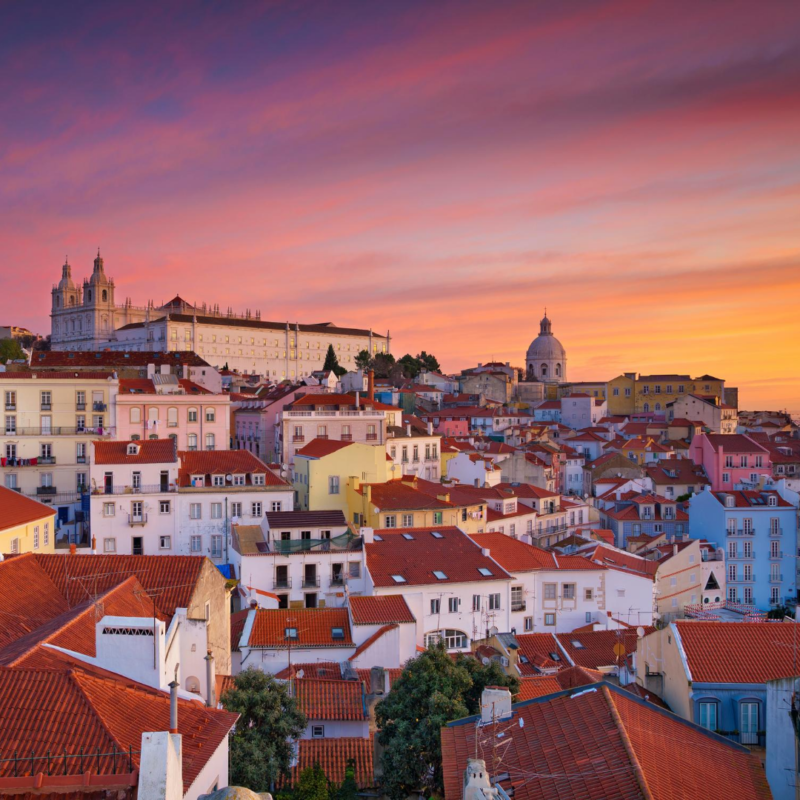 The city of Lisbon is renowned for the seven hills that mark seven breathtaking vantage points, and Estrela real estate can be found amongst them.
With pastel-lined properties and Lisbon's most beautiful examples of Portugal's renowned azulejo tiles, investing in an Estrela property is a good opportunity to live in one of Lisbon's most sought-after neighbourhoods.
The majority of Estrela apartments are eighteenth-century creations built for noble families and aristocrats, decorative with high ceilings and beautifully restored. Also sharing the neighborhood with many embassies and consulates, our Estrela real estate is nestled in a safe and calm area.
Estrela is a dream location for start-ups or home offices. Apartments for sale in Estrela are currently enjoying a huge increase in value, and look intent on continuing to rise.
The Lisbon metro system is anticipated to open by 2020, only adding more value to a property for sale in Estrela.
| | | |
| --- | --- | --- |
| Lisbon 2020 Q2 | Average sale $ m2 | Average rent $ m2 |
| Estrela | €5,065.00 | 16 |
---
Santo Antonio
The Santo António area features many emblematic twentieth-century buildings and facades. Some of the properties on Avenida da Liberdade have even been awarded the prestigious Valmor price. A Santo António property owner would find themselves in the heart of high quality. 
As one of the first established Lisbon municipalities, the district breathes history and status. The Avenida da Liberdade forms an axis through the neighbourhood and offers many sources of entertainment like theatres, cinemas, and shops. This Parisian-inspired boulevard is home to luxury brands like Chanel, Gucci, Cartier, and Louis Vuitton and gives the area its reputation of chic high-class properties and international residents.
| | | |
| --- | --- | --- |
| Lisbon 2020 Q2 | Average sale $ m2 | Average rent $ m2 |
| Santo Antônio | €5,711.00 | €19.00 |
If you plan to live in Portugal, contact GPW!
Our local Portuguese team will be happy to assist you.